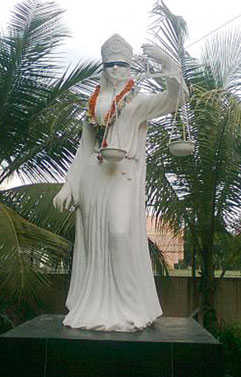 The Campus
The College of law is built on a spacious 2 Acres of the land which is adjacent to the parent Institution D.N.R.College. The college has good infrastructure with spacious class rooms, sprawling playground, qualified faculty, well equipped library, model Moot Court Hall and Free Legal Aid Clinic.
The Legal Aid Clinic was inaugurated by the
Supreme Court Judge
(Retd.),
Honourable Justice Sri K. Rama Swamy.
Faculty
The College has full-fledged qualified faculty imparting quality legal education. Faculty members are actively involved in research work and the College has to its credit doctorates in Law and gold medalists too.
Library
The Library is well equipped with books consisting of reference books, back volumes of journals, current legal periodicals and rare collections with open access system ranging to 9,519 Books. There is Book Bank facility available for SC, ST students and Internet facility also available.
COMPUTER LAB
The well equipped Computer Lab facility is provided to the students for the enhancement of their computer knowledge and skills.
Sports Facilities
The College encourages physical education and sports. The facilities include Tennis, Volley Ball, Basket Ball, Athletic track, Indoor-Stadium etc.
N.S.S
The college is running National Service Scheme Unit and is active in extension activities relating to legal literacy and awareness. Volunteers of N.S.S. are active in extending free legal aid and have been associated with law enforcement agencies.
Co-curricular Activities
Seminars, Extension Lectures and Work Shops are regular features of our College. Special interest is taken for the all round development of the student in the area of communication skills and soft skills.
Legal Aid Clinic
There is a Legal Aid Centre at the College and the College has also entered MOU with I.T.D.A.(Integrated Tribal Development Authority) to render legal aid to the Tribals. As many as 13 of our students got selection as Legal Coordinators in A.P. State Government services as a token of recognition of our services in the area of legal aid to the tribals.
Legal Literacy Club
There is Legal Literacy Club and nearly there are 30 students selected as Para Legal Volunteers and Identity Cards are issued by the District Legal Service Authority, Bhimavaram after imparting 2 day training programme.